The City maintains over 540 acres of parks and trails and hosts multiple programs for youth, adults and seniors in 5 city facilities. Find a park, trail or program near you!
Get the latest scoop
See the Parks & Community Services programs, events and activities in the latest edition of the Soaring Activity Guide.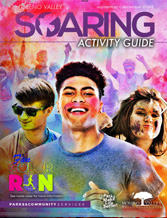 Register for an Activity or Program
Register online for a class, activity, program or event online:


Resources
Keep the Parks Safe & Trails Beautiful
Keep the parks and trails safe and clean by volunteering for the Park Patrol or participating in the Adopt-a-Park or Trail program.
Department Contact
Parks & Community Services Contact Number
951.413.3280