The Moreno Valley Veterans Memorial features a sculpture by Richard Rist and a rose garden.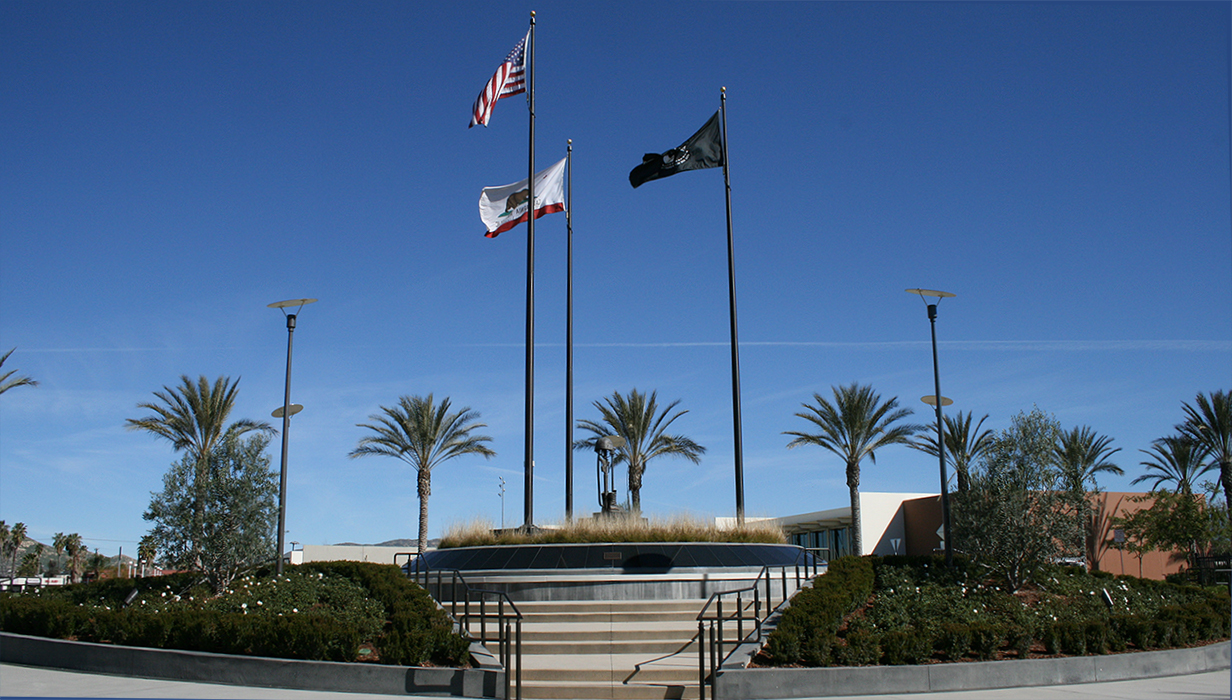 Honoring Our Servicemen and Women
Learn more about Moreno Valley events that honor service men and women:
Moreno Valley Veterans Memorial
Location: Moreno Valley Civic Center, 14177 Frederick Street, between the Conference and Recreation Center and the Public Safety Building.
Hours: The Memorial is open to the public 24 hours a day, 7 days a week.
Dedicated on June 14th, 2007, the $1.3 million star-shaped monument features large granite panels inscribed with the names of Moreno Valley soldiers killed in action . The Memorial's centerpiece is a battlefield cross bronze statue, "Fallen Soldier," created by Richard Rist of The Large Art Company of Baltimore, Maryland. The sculpture is a pair of military boots, an M16 rifle with the barrel down between the boots, and a combat helmet on top. Pavers inscribed with the names of military veterans surround the Memorial along with landscaping, including olive trees and a rose garden planted by the Moreno Valley Garden Club.
The idea for the Moreno Valley Veterans Memorial arose from an appearance before the City Council by Mary Carriere, whose son, Lance Corporal Jason Tetrault, was killed in action on July 9, 2003 in Kuwait. As a result of that discussion, the City Council approved funding for the design of a memorial in Moreno Valley, and a committee that included Mrs. Carriere, Mayor Charles R. White, Mayor Pro Tem William H. Batey, II, Laura Froehlich and Kevin Kearby, was formed to work on this important project.
Military Banner and Paver Programs
Military Banner and Paver Program Applications
Applications may be submitted at any time but are due by April 15 for a Memorial Day installation.
The Military Appreciation Banner Program recognizes active duty military servicemen and women who are Moreno Valley residents, have immediate family members living in Moreno Valley, or have graduated from a Moreno Valley high school. The Veterans Memorial Paver Program recognizes veterans and active duty military servicemen and women. Pavers inscribed with the name of military veterans and active duty service personnel surround the Memorial along with landscaping.
Learn more about this program: