Animal Services
Moreno Valley Animal Services offers a wide range of services, including dog licensing, low-cost spay/neuter programs and vaccination services. Dogs and cats are available for adoption at the animal shelter for a nominal fee.
Animal Shelter
Location
The Moreno Valley Animal Shelter is located at 14041 Elsworth Street, between Cactus and Alessandro.
Hours
Mon: Owner redemption by appointment only based on staff availability
Tues - Fri: 9:30 am – 6 pm
Sat: 10 am – 4 pm
Sun: Closed
After Hours Assistance
To report a sick, injured or aggressive animal, please call the Riverside County Sheriff's Dept. at 951.776.1099, and press Option 5 to contact a live person at the Dispatch Center.
The Dispatch Center will contact the on-call Animal Control Officer. Be sure to disable call blocking on your phone before calling.
Special Events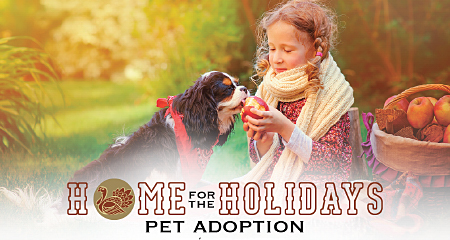 Home for the Holidays Pet Adoption
When: November 19 - 21
Time: 10 am–5:30 pm 
Location: Moreno Valley Animal Shelter
$60 dogs/puppies and $15 cats/kittens. Cost includes spay or neuter surgery, vaccines and HomeAgain microchip. Pets adopted that have not been altered will stay for surgery and will be available to go home on the afternoon of the day surgery is scheduled.
Resources
Shelter Services
Microchip ($16 total fee)
Cat Trap Rental (limited availability)— $52 deposit; $12/week
Help Us!
The Moreno Valley Animal Shelter has many opportunities for shelter volunteers and those who would like to help animals in other ways. Check it out...