Moreno Valley Animal Services has many opportunities for shelter volunteers — and those who would like to help in other ways.
Your Donations Make a Big Difference
The following programs provide both money and comfort.
Donations/Wish List
Your donations to the shelter will allow us to provide comfort to homeless pets during their stay at the Moreno Valley Animal Shelter. This "wish list" is from the people who work with the animals every day to provide care and comfort.
Purina Puppy Chow/Kitten Chow
Dawn dish soap
Cat litter (clay, non-clumping) and litter boxes
Cement mixing trays for dog beds
Chicken, turkey/rice baby food for wildlife
Cockatiel food, parrot food and cages
Collars and leashes (new/gently used)
Crates, kennels, pet gates
Dog Flea Shampoo
Lap or travel-size blankets
Liquid laundry detergent/bleach
Rabbit, hamster, guinea pig food, cages and toys
Recycles (bottles/cans)
Side-by-side pet bowls (dog/ cat)
Towels (new/used)
Toys (cat balls,cat mice, dog balls, ropes and chew toys)
We also accept monetary donations.
---
Donate a Bed Program
Give the Gift of Comfort to a shelter dog or cat. Your kindness will make a world of difference to them! Prices are specially discounted for donations. Items ship directly to the shelter in your name.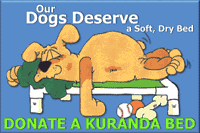 ---
California Pet Lover Plates
How can getting this plate help?
Over 1 million dogs and cats enter California's shelters each year, and over half of them are euthanized (put to sleep) simply because there are not enough homes.

The easiest way a pet owner can help reduce pet overpopulation is to spay or neuter your pets. The California Pet Lover's License Plate will provide a large-scale, permanent funding source for spay and neuter programs. These programs have proven to be the best way to help reduce the number of unwanted pets.
Be an Adoption Ambassador
Through the ASPCA Adoption Ambassadors program, those who foster animals become adoption counselors on behalf of their local shelters. Ambassadors take home adoptable dogs or cats and find safe and loving homes through word of mouth, social media posts and emails to friends and family, or by hitting the streets with their foster pets.
Be a Volunteer for the Shelter
Volunteers can help in the following ways:
The animal shelter is urgently seeking experienced groomers to volunteer their services at the shelter.
Help with adoption events in the community
Clean and care for the animals
Do laundry and clean cages
Walk dogs
Become a pet caretaker
Photograph pets
Perform Lost & Found services
Get an application and start helping today!
Volunteer Requirements
Must be at least 18 years old
Complete and return volunteer application
Attend a Volunteer Orientation
Review Training Videos
Pass a DOJ background check