Solid Waste & Recycling
The City of Moreno Valley maintains a modern City-wide collection and recycling program for both commercial and residential customers. The City also sponsors recycling events and giveaways, special collection events, and several City beautification programs.
The City of Moreno Valley provides trash, recycling and special waste handling services to residents and businesses through a contract with Waste Management. No other haulers are authorized to operate within the City.
Trash Pickup
Place your carts at the curb by 6 am on your collection day.

What Goes in the Bins?
Find out what items should go in each bin.
DIY Trash Disposal
If you prefer to dispose of your own trash, apply for a self-haul permit or call the City of Moreno Valley at 951.413.3109.
Questions About Waste Collection Service?
You can contact:
MV Recycling & Waste Collection
951.413.3109
Waste Management
800.423.9986
What's Happening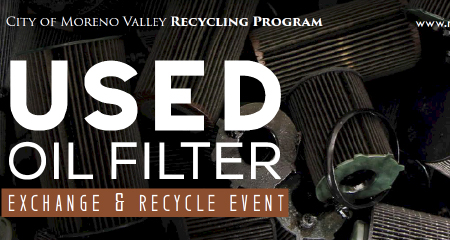 Used Oil Filter Exchange and Recycle Event
When: Saturday, May 25
Time: 9 a.m. – 12 noon.
Location: O'Reilly Auto Parts, 15105 Perris Blvd.
Moreno Valley residents can receive up to two new oil filters in exchange for two used oil filters (maximum value $15 per filter). Be sure to bring and ID or utility bill to verify your residency.
News & Tips
Disposing of BBQ Coals and Ash
Please let coals/ashes cool for at least 48 hours in the grill (72 hours for extra precaution) before putting them in the trash. Never put coals /ashes in your recylcing or green waste containers. See BBQ Coals Disposal in English and Spanish.

Need to Get Rid of Something Big?
Do you have items that are  too large for your trash bin? Moreno Valley residents may request up to four bulky and/or E-waste pick-ups per month at no charge.  For more information, see the Bulky Item Pickup page.
Help Moreno Valley Shine
The Keep Moreno Valley Beautiful (KMVB) mission is to build partnerships which inspire community engagement and enhance the quality of life and civic pride in the City of Moreno Valley. Learn more about Keep Moreno Valley Beautiful.
Mandatory Organic Waste Recycling
Starting April 2016, the State's Mandatory Organic Waste Recycling law (AB 1826) will require businesses that generate 8 cubic yards of organic waste (food or green waste) to arrange for organic waste recycling services. For more information, see the Mandatory Commercial Recycling page.
Resources
Useful Contacts
Riverside County Waste Management Department
951.486.3200
Moreno Valley Recycling and Waste Program
951.413.3109