City of Moreno Valley Creates Nearly 30,000 New Jobs in Ten Years
For immediate release: November 17, 2022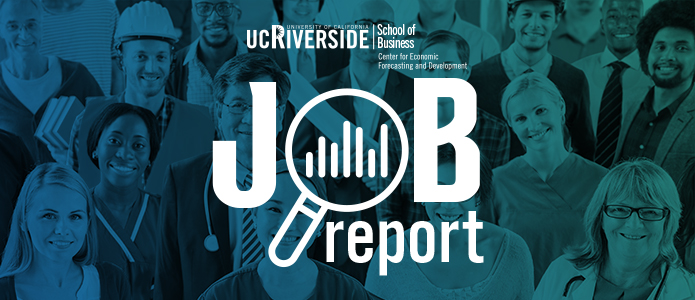 The City of Moreno Valley's job growth has increased significantly, creating 29,741 new jobs within the past ten years, according to an independent report from the UC Riverside School of Business Center for Economic Forecasting and Development.
Additionally, the report states that Moreno Valley has created 5,768 jobs from the fourth quarter of 2020 to the fourth quarter of 2021—an increase of 11 percent, eclipsing Riverside County's overall growth of 6.6 percent.
"These new job numbers confirm what we've known all along: Moreno Valley continues to be a leader in local job creation across Riverside County and the Inland Empire," said Dr. Yxstian Gutierrez, Mayor of Moreno Valley. "This exponential job growth means more Moreno Valley working professionals are obtaining employment closer to home, which allows them to live closer to their families and thrive in our community."
"Moreno Valley has seen one of the strongest recoveries following the pandemic, outpacing many parts of California," said Dr. Christopher Thornberg, Director of the UC Riverside School of Business Center for Economic Forecasting and Development.
Most of these new jobs have been created in the Logistics, Transportation, and Utilities sectors. Additionally, overall wages in Moreno Valley have grown by 3 percent, with the most substantial wage growth in the Professional, Scientific, and Management sectors.
Moreno Valley has made it easy for businesses to thrive. Programs like Hire MoVal offer incentives to companies who hire locally, and the City's Business and Employment Resource Center (BERC) offers jobseekers unrivaled resources to obtain the perfect local career.
The UC Riverside School of Business Center for Economic Forecasting and Development brings the full resources of the University when creating these modern, first-rate economic reports. These independently provided statistics underscore the fact that Moreno Valley continues to be among the most robust centers for job creation in California.
Click here to view the report, and for more information on how Moreno Valley is moving at the speed of business, visit morenovalleybusiness.com.
# # #
---
La Ciudad de Moreno Valley ha Creado cerca de 30,000 Nuevos Empleos en Diez Años
El crecimiento del empleo en la ciudad de Moreno Valley ha aumentado significativamente, creando 29,741 nuevos trabajos en los últimos diez años, según un informe independiente del Centro de Pronóstico y Desarrollo Económico de la Escuela de Negocios de UC Riverside.
Además, el informe establece que Moreno Valley ha creado 5,768 puestos de trabajo desde el cuarto trimestre de 2020 hasta el cuarto trimestre de 2021, un aumento del 11 por ciento, eclipsando el crecimiento general del condado de Riverside de 6.6 por ciento.
"Estas nuevas cifras de empleos confirman lo que hemos sabido desde el principio: Moreno Valley sigue siendo líder en la creación de empleos locales en todo el condado de Riverside e Inland Empire", dijo el Dr. Yxstian Gutiérrez, alcalde de Moreno Valley. "Este crecimiento exponencial del empleo significa que más profesionales que trabajan en Moreno Valley obtienen empleo más cerca de casa, lo que les permite vivir más cerca de sus familias y prosperar en nuestra comunidad".
"Moreno Valley ha visto una de las recuperaciones más fuertes después de la pandemia, superando a muchas partes de California", dijo el Dr. Christopher Thornberg, Director del Centro de Pronóstico y Desarrollo Económico de la Escuela de Negocios de UC Riverside.
La mayoría de estos nuevos empleos se han creado en los sectores de logística, transporte y servicios públicos. Además, los salarios generales en Moreno Valley han crecido un 3 por ciento, con el crecimiento salarial más sustancial en los sectores Profesional, Científico y de Gestión.
Moreno Valley ha facilitado que las empresas prosperen. Programas como Hire MoVal ofrecen incentivos a las empresas que contratan localmente, y el Centro de recursos de empleo y negocios de la ciudad (BERC) ofrece a los solicitantes de empleo recursos incomparables para obtener la carrera local perfecta.
El Centro de Pronósticos y Desarrollo Económicos de la Escuela de Negocios de UC Riverside aporta todos los recursos de la Universidad al crear estos informes económicos modernos y de primer nivel. Estas estadísticas proporcionadas de forma independiente subrayan el hecho de que Moreno Valley sigue siendo uno de los centros más robustos para la creación de empleo en California.
Haga clic aquí para ver el informe, y para obtener más información sobre cómo Moreno Valley se está moviendo a la velocidad de los negocios, visite morenovalleybusiness.com.
# # #
Upon request, this news release will be made available in appropriate alternative formats to persons with disabilities, in compliance with the Americans with Disabilities Act of 1990. Any person with a disability who requires a modification or accommodation in order to participate in this meeting should direct such requests to Guy Pegan, ADA Coordinator, at 951.413.3120 at least 72 hours before the meeting. The 72-hour notification will enable the City to make reasonable arrangements to ensure accessibility to this meeting.