City of Moreno Valley Wins Two Turning Red Tape into Red Carpet Awards
For immediate release: November 4, 2022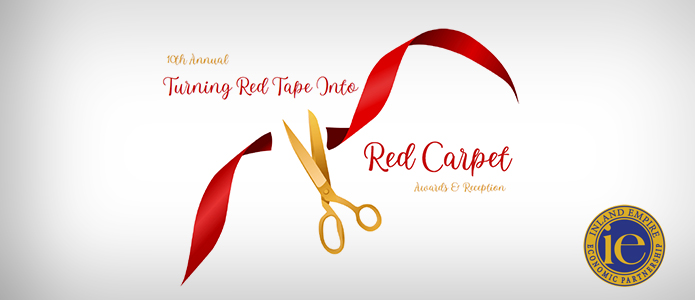 The City of Moreno Valley is proud to announce two first-place wins at the Inland Empire Economic Partnership's (IEEP) 10th Annual Turning Red Tape to Red Carpet Awards.
The City received first-place honors for Sustainability and Green Development for its Eliminating Water Waste - Turf Removal project and Innovative Use of Technology for the City's WiFi Gardens.
"These two prestigious awards underscore the City of Moreno Valley's continued legacy of providing innovative programs and services that make our City the jewel of the Inland Empire," said Dr. Yxstian Gutierrez, Mayor of Moreno Valley. "I want to congratulate City staff for once again going above and beyond in cutting through the red tape and rolling out the red carpet for our residents."
The Innovative Use of Technology award was given to the City for implementing citywide WiFi gardens installed at public parks and City facilities. These WiFi Gardens allowed Moreno Valley residents to stay connected to the internet through the free "ILoveMoVal" network in nearly 30 public places throughout town.
The City received the Sustainability and Green Development award for being among the first municipalities to undertake a turf replacement project in favor of drought-tolerant landscaping. The project removed and replaced nearly 500,000 square feet of turf throughout the City and saved almost 3.6 million gallons of water.
The IEEP is a regional economic development organization dedicated to improving the economic vitality of the Inland Empire for more than 30 years. The organization is focused on bringing jobs to the region, fostering economic opportunities, and enhancing the quality of life for residents of Riverside and San Bernardino counties. The IEEP's Turning Red Tape into Red Carpet event honors agencies that have developed innovative ways to avoid bureaucratic red tape for the betterment of local economies and communities.
Click here for more information about Moreno Valley's WiFi Gardens, and for more information about The City's Turf Removal Project, please contact the Special Districts Division at 951.413.3470.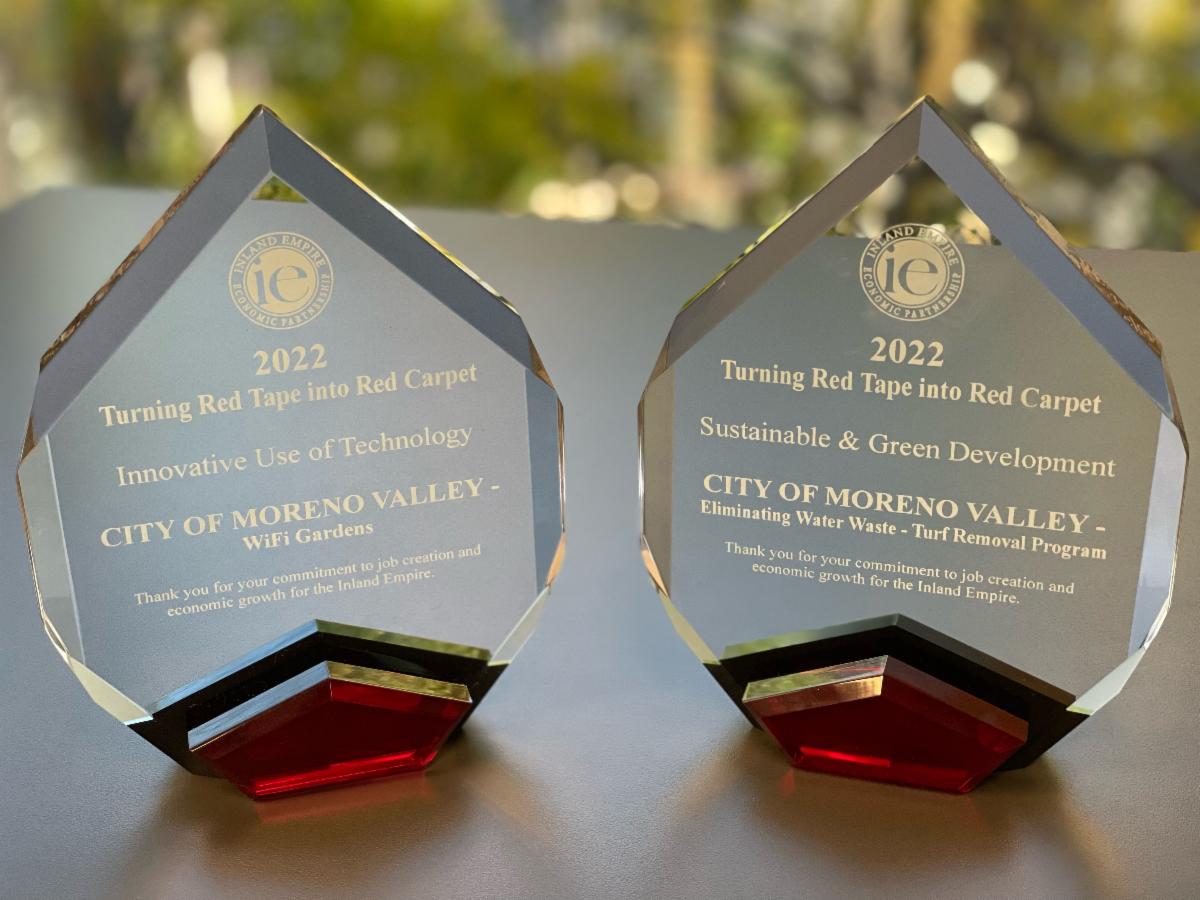 # # #
---
Ciudad de Moreno Valley gana dos premios en la décima edición de Turning Red Tape to Red Carpet
La ciudad de Moreno Valley se enorgullece en anunciar dos premios de primer lugar en la décima edición de los premios Turning Red Tape to Red Carpet de Inland Empire Economic Partnership (IEEP).
La Ciudad recibió honores de primer lugar por Sustentabilidad y Desarrollo Verde por su proyecto Eliminación de Desperdicio de Agua – Remoción de Césped y Uso Innovador de Tecnología por nuestros WiFi Gardens en la Ciudad.
"Estos dos premios prestigiosos subrayan el legado continuo de la ciudad de Moreno Valley de brindar programas y servicios innovadores que hacen que nuestra ciudad sea la joya del Inland Empire", dijo el Dr. Yxstian Gutiérrez, alcalde de Moreno Valley. "Quiero felicitar al personal de la ciudad por ir más allá una vez más al reducir la burocracia y desplegar la alfombra roja para nuestros residentes".
El premio Uso Innovador de la Tecnología se otorgó a la Ciudad por implementar WiFi Gardens en toda la ciudad instalados en parques públicos e instalaciones de la Ciudad. Estos WiFi Gardens permitieron que los residentes de Moreno Valley se mantuvieran conectados al Internet a través de la red gratuita "ILoveMoVal" en casi 30 lugares públicos de la ciudad.
La Ciudad recibió el premio de Sustentabilidad y Desarrollo Verde por estar entre los primeros municipios en emprender un proyecto de reemplazo de césped a favor de un paisajismo tolerante a la sequía. El proyecto eliminó y reemplazó casi 500,000 pies cuadrados de césped en toda la Ciudad y ahorró casi 3.6 millones de galones de agua.
El IEEP es una organización de desarrollo económico regional dedicada a mejorar la vitalidad económica del Inland Empire durante más de 30 años. La organización se enfoca en traer empleos a la región, en promover oportunidades económicas y en mejorar la calidad de vida de los residentes de los condados de Riverside y San Bernardino. El evento Turning Red Tape into Red Carpet del IEEP honra a las agencias que han desarrollado formas innovadoras de evitar la burocracia para mejorar las economías y comunidades locales.
Haga clic aquí para obtener más información sobre WiFi Gardens de Moreno Valley y para obtener más información sobre el proyecto de eliminación de césped de la ciudad, comuníquese con la División de Distritos Especiales al 951.413.3470.
# # #
Upon request, this news release will be made available in appropriate alternative formats to persons with disabilities, in compliance with the Americans with Disabilities Act of 1990. Any person with a disability who requires a modification or accommodation in order to participate in this meeting should direct such requests to Guy Pegan, ADA Coordinator, at 951.413.3120 at least 72 hours before the meeting. The 72-hour notification will enable the City to make reasonable arrangements to ensure accessibility to this meeting.