Mayor and City Council Break Ground on New Housing and Commercial Development
For immediate release: July 14, 2022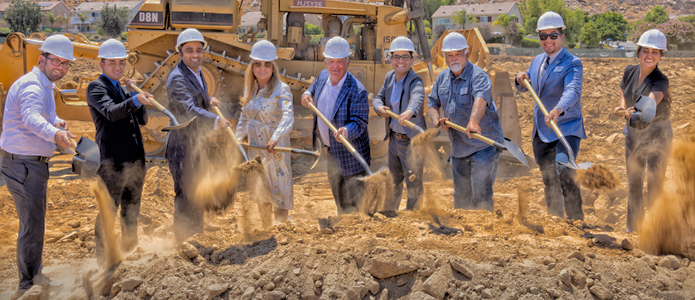 Mayor Yxstian Gutierrez and the Moreno Valley City Council officially broke ground on phases two and three of the Continental Villages project on Wednesday, July 13.
Mayor Gutierrez was joined by Council Member Ulises Cabrera, Council Member David Marquez, Continental East Development President and Co-Founder Al Rattan, and numerous local dignitaries.
"Al Rattan and Continental East Development have been great partners and have created incredible projects that have transformed Moreno Valley," said Dr. Yxstian Gutierrez, Mayor of Moreno Valley. "I am excited to see this project create more opportunities for families to dine, shop, work, and establish roots in Moreno Valley."
When completed, phases two and three of the Continental Villages will feature 112 units, including 96 apartments and 16 two-story units in duplex buildings, a nearly 3,900 square foot recreation building, and over 21,000 square feet of retail space.
The first phase of the Continental Villages development, a 125-unit apartment complex called Arrive at Rancho Belago, was highly successful, achieving full occupancy within months of opening.
The Continental Villages, located at 16340 Lasselle Street, is yet another exciting mixed-use project providing more housing for new and established Moreno Valley residents. The commercial component of the project will create new businesses, and in turn generate more revenue for essential City services such as public safety and city beautification.
For more information on exciting future projects in Moreno Valley, visit the Community Development Department at moval.org/cdd.
# # #
---
El Alcalde y Concejo Municipal Inician la Construcción de Nevas Viviendas y Desarrollo Comercial
El alcalde Yxstian Gutiérrez y el Concejo Municipal de Moreno Valley iniciaron oficialmente la construcción de las fases dos y tres del proyecto Continental Villages el miércoles 13 de julio.
El alcalde Gutiérrez estuvo acompañado por el concejal Ulises Cabrera, el concejal David Márquez, el presidente y cofundador de Continental East Development, Al Rattan, y dignatarios locales.
"Al Rattan y Continental East Development han sido grandes socios y han creado proyectos increíbles que han transformado Moreno Valley", dijo el Dr. Yxstian Gutiérrez, Alcalde de Moreno Valley. "Estoy emocionado de ver que este proyecto crea más oportunidades para que las familias cenen, compren, trabajen y establezcan raíces en Moreno Valley".
Cuando se completen, las fases dos y tres de las Continental Villages contarán con 112 unidades, incluyendo 96 apartamentos y 16 unidades de dos pisos en edificios dúplex, un edificio de recreación de casi 3,900 pies cuadrados y más de 21,000 pies cuadrados de espacio comercial.
La primera fase del desarrollo de Continental Villages, un complejo de apartamentos de 125 unidades llamado Arrive at Rancho Belago, fue muy exitosa, logrando la ocupación total a los pocos meses de su apertura.
Continental Villages, ubicado en 16340 Lasselle Street, es otro emocionante proyecto de uso mixto que proporciona más viviendas para los residentes nuevos y establecidos de Moreno Valley. El componente comercial del proyecto creará nuevos negocios y, a la vez, generará más ingresos para los servicios esenciales de la Ciudad, como la seguridad pública y el embellecimiento de la ciudad.
Para obtener más información sobre proyectos futuros emocionantes en Moreno Valley, visite el Departamento de Desarrollo Comunitario en moval.org/cdd.
# # #
Upon request, this news release will be made available in appropriate alternative formats to persons with disabilities, in compliance with the Americans with Disabilities Act of 1990. Any person with a disability who requires a modification or accommodation in order to participate in this meeting should direct such requests to Guy Pegan, ADA Coordinator, at 951.413.3120 at least 72 hours before the meeting. The 72-hour notification will enable the City to make reasonable arrangements to ensure accessibility to this meeting.