Fireworks are illegal in Moreno Valley.
By ordinance 8.36 all fireworks are illegal in the City of Moreno Valley.
If you want to have a fun time this Fourth of July, join us for Moreno Valley's 4th of July Parade and Family Fun Fest. There will be an amazing fireworks show, and best of all, it's safe and legal!
Fireworks Updates
As reported by news media, this year has seen a steep increase in the use of illegal fireworks all across Southern California.
Police departments all over the region have been responding to a record number of reports from frustrated residents, including here in Moreno Valley.
Moreno Valley Police, responding to tips from residents providing offenders' addresses, have made several arrests and confiscated thousands of dollars' worth of fireworks.
The City Manager has directed MVPD to make fireworks enforcement, especially before July 4 and New Year's Eve, a high non-emergency priority
Penalties for illegal fireworks range up to $3,500 and may include criminal charges.

For even faster service, residents can also use the online Fireworks Reporting Form to contact law enforcement in addition to contacting MVPD dispatch at 951-247-8700 (option 5).

When reporting illegal fireworks, please provide an address to assist our Fireworks Task Force.
Fireworks Taskforce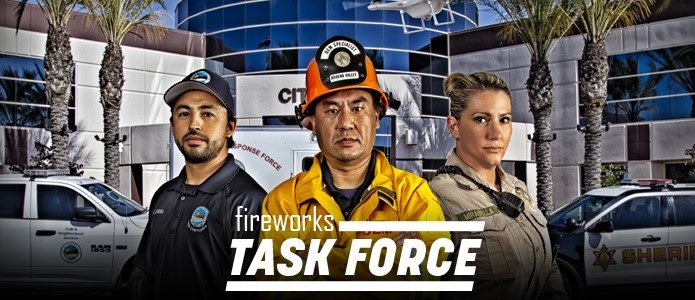 The City's Fireworks Task Force has confiscated thousands of dollars' worth of fireworks and made several arrests thanks to help from residents reporting fireworks users.
Public Service Announcements
The Danger of Fireworks
Injuries/Death
On average, nationwide, close to 200 per day suffer fireworks-related injuries in the month around the July 4th holiday. Approximately 39% of all fireworks-related injuries happen to children between the ages of 0-14.
Improper Storage of Fireworks/Explosives
Storage of illegal fireworks can also be dangerous. If not properly stored, they can explode, causing property damage, injury and death.

Misuse
Fireworks can be disassembled to access their explosive powder, which could be used to make other explosive devices.
Fire Hazards
Drought conditions in the Inland Empire increase fire risks associated with illegal fireworks, threatening lives and property and potentially triggering wildfires.

PTSD Triggers
The unexpected explosion of fireworks can trigger a startle response in people suffering from post-traumatic stress disorder (PTSD), a psychiatric disorder that can occur in people who have experienced or witnessed a traumatic event.
Harm to Pets
The sight and sound of fireworks scares pets, causing many to run away in fear and confusion. Even those who don't run away experience severe anxiety.

Criminal Offense
California Health & Safety Code (Sections 12,500 -12,726) establishes statewide laws and regulations governing the sale, use, distribution, exhibition, possession and storage of fireworks. In Moreno Valley, the use of fireworks is illegal and could result in an administrative citation and/or misdemeanor prosecution.

Costly Fines
The Moreno Valley Municipal Code states: if anyone is caught using, storing, selling, distributing or possessing any type of fireworks or explosive, they are subject to fines up to $3,500.

Questions
For more information, please call the Community Enhancement Division at 951-413-3340.