Fire Department
Contact
Abdul Ahmad
Fire Chief



951.486.6780


Send email...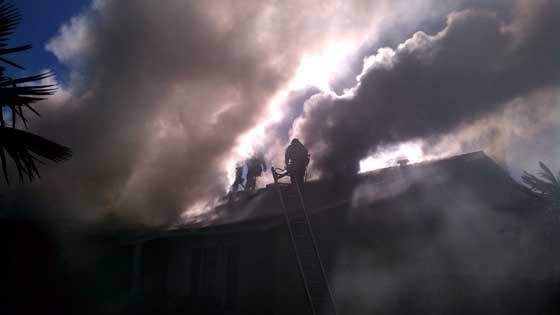 The Moreno Valley Fire Department is the primary response agency for fires, emergency medical service, hazardous materials incidents, traffic accidents, terrorist acts, catastrophic weather events, and technical rescues for the City of Moreno Valley.  The Fire Department also provides a full range of fire prevention services including public education, code enforcement, plan check and inspection services for new and existing construction, and fire investigation.  Additionally, the City's Office of Emergency Management is located within the Fire Department allowing for a well-coordinated response to both natural and man-made disasters. The Moreno Valley Fire Department is part of the CALFIRE / Riverside County Fire Department's regional, integrated, cooperative fire protection organization.
Divisions and Programs
Select a tab below for more information about Fire Department divisions and programs...
Fire Administration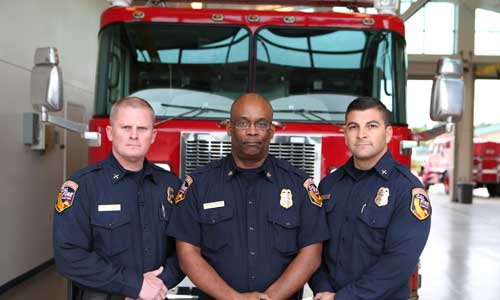 The Administrative Section is responsible for the oversight and management of all Fire Department administrative functions including, but not limited to: Fire Station administration, personnel management and budget administration. The Fire Department Administration also oversees the Fire Prevention Bureau and Office of Emergency Management.
Fire Administration is responsible for the day-to-day management of the Fire Department.  Headed by Fire Chief Abdul Ahmad, Fire Administration provides policy direction, leadership and vision to our members, and plays a key role in securing the resources necessary to carry out our Department mission.  Fiscal management and special projects are under the purview of Fire Administration.
Moreno Valley Fire Services Administrative Offices are located at Moreno Valley's Public Safety Building:
22850 Calle San Juan De Los Lagos
Moreno Valley, CA 92552
951.486.6780
MVFD@moval.org
Hours of Operation:
Monday-Thursday: 7:30 a.m. to 5:30 p.m.
Friday: Closed
Fire Operations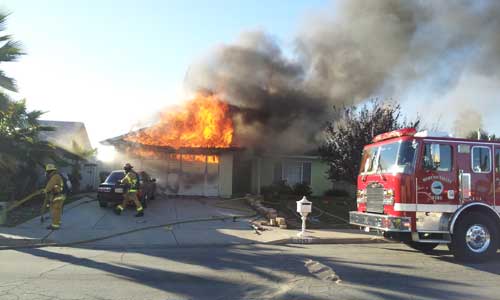 The Moreno Valley Fire Department is part of the CAL FIRE/ Riverside County Fire Department's regionalized, integrated, cooperative fire protection organization. Through this contract relationship with CAL FIRE, and the Riverside County Fire Department, the Moreno Valley Fire Department has the benefits of and access to:
Hazardous materials response team

Fire arson investigation
Fire hand crews, bulldozers, and aircraft
Public information and education
Consolidated dispatch center for emergency medical and fire dispatch
Assistance from the Riverside County Fire Office of Emergency Services
Request a Fire Report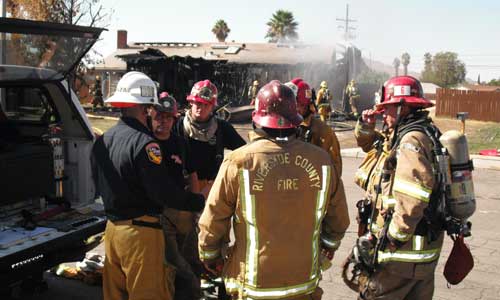 Recovering from a fire can be a physically and mentally draining process.  When fire strikes, lives are suddenly turned around.  Often, the hardest part is knowing where to begin and who to contact.  If you are insured, you will want to notify your insurance company as soon as possible.  If you are in need of temporary housing, food, or medicines, you may wish to contact the local Red Cross at  951.656.4218.  You will also want to contact the City's Building & Safety Division at  951.413.3350 to obtain assistance with restoring utilities to your property, identifying any construction permits you may need to repair your building and other information that may be helpful to you and your insurance company in recovering from this incident. 
To obtain a copy of your fire report,  you will need to submit a report in writing to the CAL FIRE/Riverside County Fire Department. Please fill out the Incident Report or provide the following information in a written request:
Fire date
Approximate time of the fire
Address or location of the fire
A fire report fee of $15.00 must accompany the request. Fees must be in the form of check or money order payable to Riverside County Fire Department.
Please send the request and fees to:
Riverside County Fire Department
Attn: Records
210 West San Jacinto Avenue
Perris CA 92570

Normally, the fire report copy will be sent within two weeks. If you have any questions about a pending report request, call 951.943.4970.  You may also visit the Riverside County website at www.rvcfire.org.
Burn Permits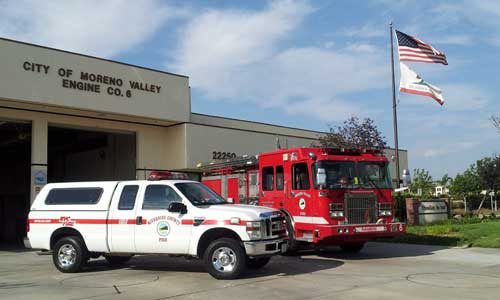 During certain times of the year residential landscape debris burning of dead vegetation is allowed. However, homeowners should always check with their local  fire station and South Coast Air Quality Management District before burning.  You may visit the South Coast Air Quality Management District's website at http://www.aqmd.gov/ for information on whether or not air quality conditions permit burning.  Additionally, you will need to obtain a burn permit from your local fire station.  Please visit our Fire Station Locations page to locate a fire station near you.
The following are burning permit requirements:
Maximum pile size 4 foot in diameter.
Clear all flammable material and vegetation within 10-feet of the outer edge of pile.
Keep a water supply close to the burning site.
An adult should be in attendance with a shovel until the fire is out.
No burning shall be undertaken unless weather conditions (particularly wind) are such that burning can be considered safe. No household trash or garbage can be burned outdoors at residences.
Dry, natural vegetation, grown on the property can still be burned outdoors in open piles, unless prohibited by local ordinances. Burning can only be done on permissive burn days. Burn permits are only valid on "Permissive Burn Days" as determined by the State Air Resources Board or the South Coast Air Quality Management District.
Fire News - March 2017
City of Moreno Valley Honors Firefighter of the Year Captain Robert Patterson
Fire Captain Robert Patterson has been named as the City of Moreno Valley's 2016 Firefighter of the Year for his devotion to our community and his passion for helping develop the firefighters of the future.
As a Captain at Moreno Valley's Moreno Beach Fire Station 58 since 2014, Captain Patterson and his crew are responsible for responding to incidents throughout the City and along the SR-60 freeway, including technical rescues, mass casualty traffic accidents and car fires. Despite the inherent danger of responding to accidents on the freeway and the challenging nature of the calls, Captain Patterson skillfully directs his crew to manage care for multiple patients. His calm demeanor and decades of experience ensure patients receive the care they need and his crew remains safe from harm.
In addition to his daily responsibilities, Captain Patterson oversees one of the Department's two Fire Explorer posts. Captain Patterson's passion for teaching and training is apparent through his oversight of the Fire Explorers, which provides Moreno Valley high school students a valuable opportunity to learn first-hand about a career in fire or emergency services.
Since 2014, Captain Patterson has led the Spark of Love Toy Drive which collects new, unwrapped toys and sports equipment for local children and families. In cooperation with the Community Assistance Program of Moreno Valley, and other non-profit groups, Captain Patterson has helped make the program more successful each year.
"Captain Patterson is the very definition of a public servant," said Moreno Valley Mayor Yxstian Gutierrez. "He truly lives to serve our community through his work as a firefighter, as a teacher, and as a leader."
Captain Patterson began his career in 1996 with the CAL FIRE Nevada Yuba Placer Unit where he was assigned as a seasonal firefighter for five fire seasons. In 2001, Captain Patterson was promoted to the rank of Fire Fighter II for the Temecula Battalion. Three years later he was promoted to Fire Apparatus Engineer for the Beaumont Battalion, serving Station 21 in Calimesa for nine years.
Fire News - December 2016
Santa, Moreno Valley Firefighters Deliver Joy, Gifts to Children in Hospital
They wore the tiniest of hospital gowns, tucked away in cribs and hospital beds. Machines with snaking tubes and monitors dwarfed the children who waited on the third floor of the Riverside University Health System Medical Center, hoping for something good – a test result, a stable insulin level, the news that they could go home and sleep in their own beds.
Worried parents hovered over bedsides, forcing smiles while silently praying they could wish away their child's illness and the machines with the snaking tubes and the pain.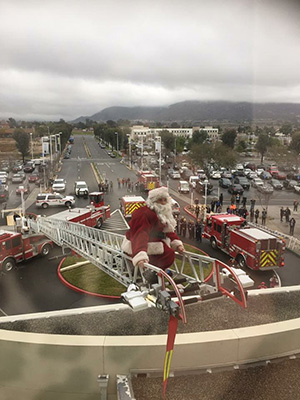 Just two days to go before Christmas. Instead of last minute shopping and present wrapping, the families gathered here, accepting the fact that their Christmas would most likely be celebrated in a hospital room.
But outside, something good was happening.
It couldn't take the pain or the worry away – at least not permanently. But it was definitely something good.
An army of Santa's helpers was assembling at the hospital's entrance –Moreno Valley firefighters in blue station uniforms and helmets armed with gift bags filled with toys.
"Ho, ho, ho," boomed a voice from inside one of the fire engines.
A pair of black boots appeared. A bright red suit and a fluffy white beard followed.
Santa.
His belly shook as he high-fived his firefighter helpers and climbed up on the aerial ladder truck. Up the ladder he went with an ease in his step like he had done this a time or two.
On the third floor, young patients pressed their faces to the window, not believing what they were seeing. Santa was headed toward them – one black boot after another he climbed up the ladder. He stopped to wave to the crowd below before disappearing into the window.
And there he was – Santa – standing in the hospital's pediatric unit.
A patient demanded her older brother push her in her wheelchair down the hall to see what the commotion was all about. She giggled when she saw him – and his entourage of firefighters. Santa stopped at the window of the hospital's playroom to wave to a boy in a hospital gown covered with bunny rabbits. But the boy was too shy to look up from his blocks – or wave.
Dozens of gift bags appeared. Santa carefully placed a stuffed dog and a light-up ball in the crib of a six-month old baby in the intensive care unit. Another infant being rocked in her mother's arm in an isolation room received a baby doll in a pink dress. A 9-year-old boy recently diagnosed with diabetes smiled – a genuine smile – as Santa dug into his bag of tricks and pulled out toy after toy and placed it on his hospital bed.
"It's like he knows you," his mother whispered to her son.
The toys, puzzles and games were donated by members of the Moreno Valley community and companies including Amazon and Walmart as part of the Spark of Love toy drive.
The shy little boy in the playroom who didn't want to look up at Santa marched back to his hospital room - with Santa and a gift bag in tow. A blue sports car. A safari set play set with striped dinosaurs. A police car raced along the hospital floor toward a pretend emergency. The little boy smiled.
Santa smiled too.
Santa's parade of firefighters and toys wound its way through the hospital into clinic waiting rooms and the emergency room.
A boy waiting for his mom to finish her treatment in the infusion center threw his new football to Santa. The spontaneous game of catch was interrupted by a young mother who handed Santa her 1-month-old twins so she could take a picture of him, a baby cradled in each arm.
For a few moments, the sickness, the machines with the snaking tubes and the worry were all forgotten.
Something good had happened.
Newsletter for April 2019
The Office of Emergency Management would like to offer the following earthquake preparedness information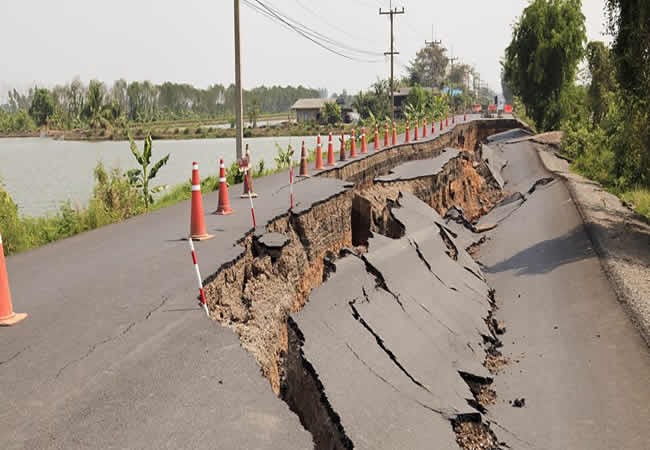 California is considered earthquake country and April has been designated as California Earthquake Preparedness Month.
Why April? Because in the early morning hours of April 18, 1906, residents of San Francisco and beyond were shaken from their beds by what has been estimated to be an 8.3 earthquake. Several aftershocks and fires followed, leaving a wake of devastation.
Recent earthquakes serve to remind us that today California is still vulnerable to the effects of a massive earthquake. Most of the population in Southern California lives within 30 miles of an active earthquake fault. No one knows when or where such an earthquake will occur, but everyone can reduce the risk of injury, property loss and even death by following the safety steps listed below.
Alert MoVal
Register for the City's Alert and Warning Notification System, AlertMoVal at www.moval.org/alert in order to receive updated information should any emergency, including earthquakes, occur.
Step 1: Fix potential hazards in your home
Strap water heaters correctly to the wall.

Install latches on kitchen cabinets.

Secure TVs, stereos, computers, etc. with Velcro straps.

Secure top-heavy furniture and appliances to walls.

Install flexible connectors on gas appliances.

Store flammable or hazardous materials on lower shelves, or on the floor.
Step 2: Create a disaster plan
Select a safe place outside of your home to meet your family or housemates after the earthquake.

Practice "drop, cover, and hold on."

Take an American Red Cross First Aid and CPR course.

Enroll in a CERT Class www.moval.org/oem

Keep shoes and a flashlight next to each bed.

Know how and when to shut off utilities.

Learn how to properly use a fire extinguisher.
Keep a fire extinguisher in an easy access area and ensure everyone know how to exit.
Step 3: Disaster supply kits
Keep a personal disaster supply kit in your home, in your car, and at work, with at least the following: 

Medications and important medical information, first aid kit and handbook.
Spare eyeglasses or contact lenses.
Bottled water and snack foods.
Whistle (to alert rescuers to your location).
Emergency cash, in small bills.
Working flashlight with extra batteries and bulbs.
Copies of personal identification and emergency contacts.
Water and food supplies for your pets.

In addition to your personal disaster supply kits, store a household disaster supply kit with a 7-10 day supply of items needed to live without normal services (water, electricity, etc.) for each member of your family while you begin recovery.
Step 4: During Earthquake and aftershocks


Drop, Cover, and Hold On.

During earthquakes, drop to the floor; take cover under a sturdy desk or table, and hold on to it firmly.

If you are in bed, hold on and stay there, protecting your head with a pillow.
The area near outer walls is very dangerous. Do not try to go outside during shaking.
If outside, move to a clear area if you can safely do so; avoid power lines, trees, and other hazards.
If driving, pull over to the side of the road, stop, and stay in your car until shaking stops.
Step 5: When safe, continue to follow your disaster plan
The first days after the earthquake:
Until you are sure there are no gas leaks, do not use open flames or operate any electrical or mechanical device that can create a spark. Never use the following indoors: camp stoves, gas lanterns or heaters, gas or charcoal grills, or gas generators. These can release deadly carbon monoxide or be a fire hazard in aftershocks.
Turn on your portable or car radio for information and safety advisories.
Check on the condition of your neighbors.
If power is off, plan meals to use up refrigerated and frozen foods first.
If your water is off or unsafe, you can drink from water heaters, melted ice cubes, or canned vegetables.
Report damage to your local building department and to your local office of emergency services.
To learn more about how to be prepared for an emergency disaster or earthquake, visit:
---
The Moreno Valley Fire Department offers the following information on hiking safety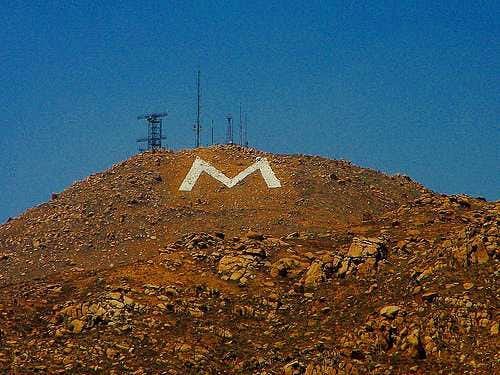 Many people have discovered that walking and hiking are safe and healthy ways to keep active and have fun. With the temperatures rising as the summer season approaches, the Moreno Valley Fire Department would like to share some helpful safety tips. 
Communicate
Hike with friends and family. Not only is the companionship a great way to share the experience, but it provides added safety benefits.
Inform someone not hiking with you of your intended location and intended return. Make sure to take a cell phone in case of an emergency. Be prepared to provide a latitude/longitude of your location if needed.
Remember to make contact after your return.
Stay Hydrated – Prevent heat-related illnesses
Pack water/drinks, snack bars, or other easily carried foods.
Drink fluids (non-alcoholic) often. Don't wait until you're thirsty to drink
Don't drink liquids that contain alcohol or large amounts of sugar; these actually cause you to lose more body fluid.
Avoid very cold drinks as they can cause stomach cramps.
Be aware of your limitations and be cautious not to overexert yourself.
Stay on the trails
Trails are there for your safety. Walking off-trail can increase your chances of suffering an injury or even getting lost.
If you encounter wildlife on the trail, keep your distance and back away slowly. DO NOT run.
Be aware of your surroundings. Remember, although the sights are beautiful, you share the mountains with other wildlife and plants.
Be aware of the elements. Check the weather before you set out and pack clothes accordingly.
---
The Moreno Valley Fire Department offers the following information on snake safety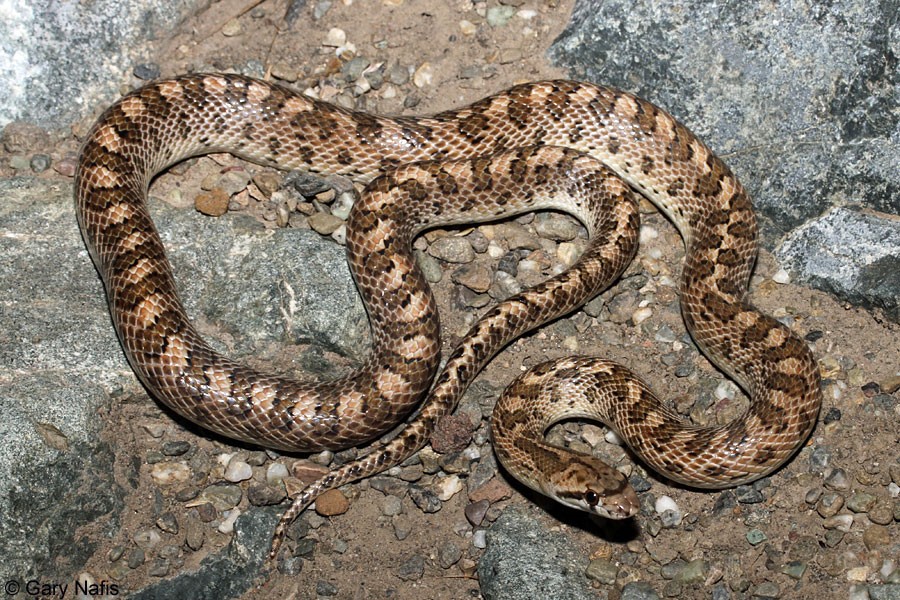 With the summer season approaching and temperatures rising, so do the incidences of snake sightings and injuries.  The Moreno Valley Fire Department would like to share some important safety tips about snakes, particularly rattlesnakes which are common to Southern California.
Snake Facts
Snakes can strike at a distance up to one-half their body length. 
A snake can still bite if its head has been separated from its body.
A rattlesnake doesn't always provide a "warning" by rattling before striking. 
Snakes will also hide in shoes left outside, so always check shoes or boots before wearing.   
What can I do to keep snakes away from my house?
Keep grass and vegetation in your yard cut short.
Trim shrubs and bushes so you can see the ground under them.
Remove piles of debris, including branches, leaves, boards and logs, as these provide hiding and nesting places for many kinds of snakes.  
What do I do if I see a snake?
Walk! Do not run away from the snake. Take two steps backward and watch where the snake goes, then calmly turn around and leave the snake alone.
It is recommended to contact a professional to remove the snake.
Do not kill the snake.
If safe to do so take a picture, so that a professional can provide you with positive identification. 
What should I do if bitten by a snake?
Remain calm, and remove yourself from the area immediately.
Call 911 and seek medical attention immediately.
If you know or suspect the snake is venomous, remove any constricting jewelry, watches, clothing, etc.
Keep the victim and/or injured limb still as you would a strain or break.
Clean the bite area thoroughly (however, do not suck the venom from bite).
Do not apply ice; do not use a tourniquet, and never cut on the fang marks.
Tips to keep your pets safe:
Pets make great hiking companions but it is important to keep them safe as well. Ask your vet about the rattlesnake vaccine. The vaccine will help reduce/delay the effects of the venom if they are bitten by a rattlesnake.
Keep your pet on a 6-foot leash. Keeping your dog from wandering too far can help you and your companion escape safely if needed
Avoid rocky or dense brush. Staying on the trails and avoiding rocky or dense brush will allow you to see ahead and avoid any areas as needed.
If you or your pet encounters a snake, walk away slowly!
If your pet is bitten, they will need immediate veterinary care. Make sure to immobilize your pet and keep them as quiet as possible, the more your pet moves the quicker the venom will circulate through their body.
---
The Moreno Valley Fire Prevention Bureau offers the following information regarding hazard abatement
2019 has already had above normal precipitation and has increased fuel moistures for the near future. While at first glance this may seem like a good thing for fire season it may actually be more hazardous than a dry year. When the grasses grow and summer weather comes these fuels will rapidly dry out. These flashy fuels will accelerate vegetation fires. The need for clearing this year is extremely important to help to mitigate this growth.  Limiting these risks and protecting the welfare of our residents and first responders is a priority in the City. The Moreno Valley Fire Department would like to share some important information.

The Moreno Valley Fire Prevention Bureau inspects and enforces the abatement of approximately 1,300 vacant parcels, which can pose a danger to the health, safety and welfare of residents and first responders. The primary function of the Hazard Abatement Program is to reduce the risk of fires within the community by pro-actively establishing defensible space and reducing/ removing combustible materials on properties.  

Notices have been sent to landowners detailing the requirements for abatement and informing them of the upcoming inspections that will begin on or after April 15, 2019. To reduce the risk of wildfires, it is imperative that landowners limit the amount of combustible fuel on their parcels. Any questions regarding the Hazard Abatement Program can be addressed to the Fire Prevention Bureau at 951.413.3381.

For more information, please visit www.moval.org/city_hall/departments/fire/fire-prevention.shtml.
---
Newsletters
2019
Newsletter Archive 2013-2018
Quick Links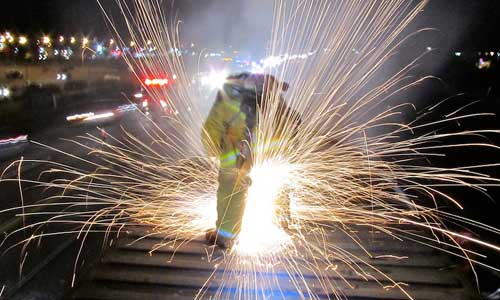 Below is a list of links which you may find useful: