Fire Department
Contact
Jesse Park
Fire Chief



951.486.6780


Send email...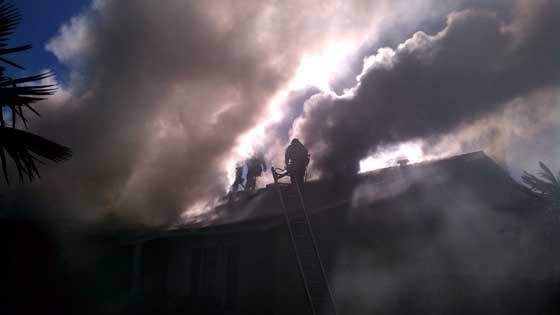 The Moreno Valley Fire Department is the primary response agency for fires, emergency medical service, hazardous materials incidents, traffic accidents, terrorist acts, catastrophic weather events, and technical rescues for the City of Moreno Valley.  The Fire Department also provides a full range of fire prevention services including public education, code enforcement, plan check and inspection services for new and existing construction, and fire investigation.  Additionally, the City's Office of Emergency Management is located within the Fire Department allowing for a well-coordinated response to both natural and man-made disasters. The Moreno Valley Fire Department is part of the CALFIRE / Riverside County Fire Department's regional, integrated, cooperative fire protection organization.
Divisions and Programs
Select a tab below for more information about Fire Department divisions and programs...
Fire Administration
The Administrative Section is responsible for the oversight and management of all Fire Department administrative functions including, but not limited to: Fire Station administration, personnel management and budget administration. The Fire Department Administration also oversees the Fire Prevention Bureau and Office of Emergency Management.
Fire Administration is responsible for the day-to-day management of the Fire Department.  Headed by Fire Chief Abdul Ahmad, Fire Administration provides policy direction, leadership and vision to our members, and plays a key role in securing the resources necessary to carry out our Department mission.  Fiscal management and special projects are under the purview of Fire Administration.
Moreno Valley Fire Services Administrative Offices are located at Moreno Valley's Public Safety Building:
22850 Calle San Juan De Los Lagos
Moreno Valley, CA 92552
951.486.6780
MVFD@moval.org
Hours of Operation:
Monday-Thursday: 7:30 a.m. to 5:30 p.m.
Friday: Closed
Fire Operations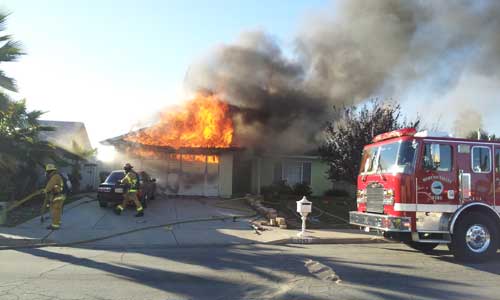 The Moreno Valley Fire Department is part of the CAL FIRE/ Riverside County Fire Department's regionalized, integrated, cooperative fire protection organization. Through this contract relationship with CAL FIRE, and the Riverside County Fire Department, the Moreno Valley Fire Department has the benefits of and access to:
Hazardous materials response team

Fire arson investigation
Fire hand crews, bulldozers, and aircraft
Public information and education
Consolidated dispatch center for emergency medical and fire dispatch
Assistance from the Riverside County Fire Office of Emergency Services
Request a Fire Report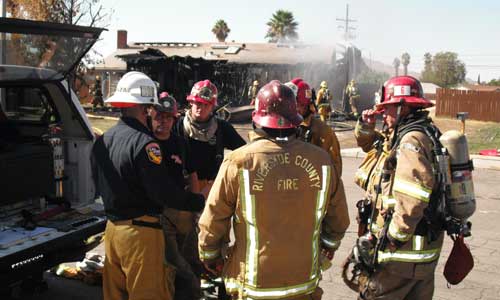 Recovering from a fire can be a physically and mentally draining process.  When fire strikes, lives are suddenly turned around.  Often, the hardest part is knowing where to begin and who to contact.  If you are insured, you will want to notify your insurance company as soon as possible.  If you are in need of temporary housing, food, or medicines, you may wish to contact the local Red Cross at  951.656.4218.  You will also want to contact the City's Building & Safety Division at  951.413.3350 to obtain assistance with restoring utilities to your property, identifying any construction permits you may need to repair your building and other information that may be helpful to you and your insurance company in recovering from this incident. 
To obtain a copy of your fire report,  you will need to submit a report in writing to the CAL FIRE/Riverside County Fire Department. Please fill out the Incident Report or provide the following information in a written request:
Fire date
Approximate time of the fire
Address or location of the fire
A fire report fee of $15.00 must accompany the request. Fees must be in the form of check or money order payable to Riverside County Fire Department.
Please send the request and fees to:
Riverside County Fire Department
Attn: Records
210 West San Jacinto Avenue
Perris CA 92570

Normally, the fire report copy will be sent within two weeks. If you have any questions about a pending report request, call 951.943.4970.  You may also visit the Riverside County website at www.rvcfire.org.
Burn Permits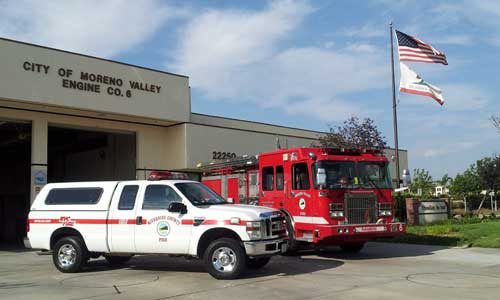 During certain times of the year residential landscape debris burning of dead vegetation is allowed. However, homeowners should always check with their local  fire station and South Coast Air Quality Management District before burning.  You may visit the South Coast Air Quality Management District's website at http://www.aqmd.gov/ for information on whether or not air quality conditions permit burning.  Additionally, you will need to obtain a burn permit from your local fire station.  Please visit our Fire Station Locations page to locate a fire station near you.
The following are burning permit requirements:
Maximum pile size 4 foot in diameter.
Clear all flammable material and vegetation within 10-feet of the outer edge of pile.
Keep a water supply close to the burning site.
An adult should be in attendance with a shovel until the fire is out.
No burning shall be undertaken unless weather conditions (particularly wind) are such that burning can be considered safe. No household trash or garbage can be burned outdoors at residences.
Dry, natural vegetation, grown on the property can still be burned outdoors in open piles, unless prohibited by local ordinances. Burning can only be done on permissive burn days. Burn permits are only valid on "Permissive Burn Days" as determined by the State Air Resources Board or the South Coast Air Quality Management District.
Fire News - March 2017
City of Moreno Valley Honors Firefighter of the Year Captain Robert Patterson
Fire Captain Robert Patterson has been named as the City of Moreno Valley's 2016 Firefighter of the Year for his devotion to our community and his passion for helping develop the firefighters of the future.
As a Captain at Moreno Valley's Moreno Beach Fire Station 58 since 2014, Captain Patterson and his crew are responsible for responding to incidents throughout the City and along the SR-60 freeway, including technical rescues, mass casualty traffic accidents and car fires. Despite the inherent danger of responding to accidents on the freeway and the challenging nature of the calls, Captain Patterson skillfully directs his crew to manage care for multiple patients. His calm demeanor and decades of experience ensure patients receive the care they need and his crew remains safe from harm.
In addition to his daily responsibilities, Captain Patterson oversees one of the Department's two Fire Explorer posts. Captain Patterson's passion for teaching and training is apparent through his oversight of the Fire Explorers, which provides Moreno Valley high school students a valuable opportunity to learn first-hand about a career in fire or emergency services.
Since 2014, Captain Patterson has led the Spark of Love Toy Drive which collects new, unwrapped toys and sports equipment for local children and families. In cooperation with the Community Assistance Program of Moreno Valley, and other non-profit groups, Captain Patterson has helped make the program more successful each year.
"Captain Patterson is the very definition of a public servant," said Moreno Valley Mayor Yxstian Gutierrez. "He truly lives to serve our community through his work as a firefighter, as a teacher, and as a leader."
Captain Patterson began his career in 1996 with the CAL FIRE Nevada Yuba Placer Unit where he was assigned as a seasonal firefighter for five fire seasons. In 2001, Captain Patterson was promoted to the rank of Fire Fighter II for the Temecula Battalion. Three years later he was promoted to Fire Apparatus Engineer for the Beaumont Battalion, serving Station 21 in Calimesa for nine years.
Fire News - December 2016
Santa, Moreno Valley Firefighters Deliver Joy, Gifts to Children in Hospital
They wore the tiniest of hospital gowns, tucked away in cribs and hospital beds. Machines with snaking tubes and monitors dwarfed the children who waited on the third floor of the Riverside University Health System Medical Center, hoping for something good – a test result, a stable insulin level, the news that they could go home and sleep in their own beds.
Worried parents hovered over bedsides, forcing smiles while silently praying they could wish away their child's illness and the machines with the snaking tubes and the pain.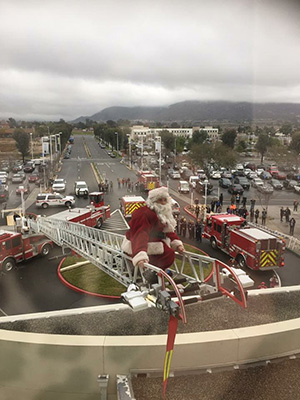 Just two days to go before Christmas. Instead of last minute shopping and present wrapping, the families gathered here, accepting the fact that their Christmas would most likely be celebrated in a hospital room.
But outside, something good was happening.
It couldn't take the pain or the worry away – at least not permanently. But it was definitely something good.
An army of Santa's helpers was assembling at the hospital's entrance –Moreno Valley firefighters in blue station uniforms and helmets armed with gift bags filled with toys.
"Ho, ho, ho," boomed a voice from inside one of the fire engines.
A pair of black boots appeared. A bright red suit and a fluffy white beard followed.
Santa.
His belly shook as he high-fived his firefighter helpers and climbed up on the aerial ladder truck. Up the ladder he went with an ease in his step like he had done this a time or two.
On the third floor, young patients pressed their faces to the window, not believing what they were seeing. Santa was headed toward them – one black boot after another he climbed up the ladder. He stopped to wave to the crowd below before disappearing into the window.
And there he was – Santa – standing in the hospital's pediatric unit.
A patient demanded her older brother push her in her wheelchair down the hall to see what the commotion was all about. She giggled when she saw him – and his entourage of firefighters. Santa stopped at the window of the hospital's playroom to wave to a boy in a hospital gown covered with bunny rabbits. But the boy was too shy to look up from his blocks – or wave.
Dozens of gift bags appeared. Santa carefully placed a stuffed dog and a light-up ball in the crib of a six-month old baby in the intensive care unit. Another infant being rocked in her mother's arm in an isolation room received a baby doll in a pink dress. A 9-year-old boy recently diagnosed with diabetes smiled – a genuine smile – as Santa dug into his bag of tricks and pulled out toy after toy and placed it on his hospital bed.
"It's like he knows you," his mother whispered to her son.
The toys, puzzles and games were donated by members of the Moreno Valley community and companies including Amazon and Walmart as part of the Spark of Love toy drive.
The shy little boy in the playroom who didn't want to look up at Santa marched back to his hospital room - with Santa and a gift bag in tow. A blue sports car. A safari set play set with striped dinosaurs. A police car raced along the hospital floor toward a pretend emergency. The little boy smiled.
Santa smiled too.
Santa's parade of firefighters and toys wound its way through the hospital into clinic waiting rooms and the emergency room.
A boy waiting for his mom to finish her treatment in the infusion center threw his new football to Santa. The spontaneous game of catch was interrupted by a young mother who handed Santa her 1-month-old twins so she could take a picture of him, a baby cradled in each arm.
For a few moments, the sickness, the machines with the snaking tubes and the worry were all forgotten.
Something good had happened.
Newsletter for June 2019
The Moreno Valley Fire Department Offers the Following Tips for Staying Safe in Pools and Spas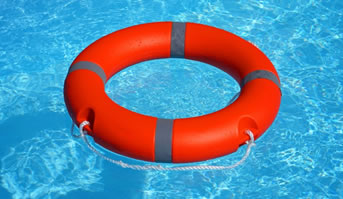 The Moreno Valley Fire Department experiences several preventable near drowning and drowning incidents each year.   These preventable events can cause severe injuries and may lead to death.  In 2018, there were 107 non-fatal submersions and 42 fatal drowning's in Riverside County.  Of those incidents, 4 non-fatal submersions and 4 fatal drowning's occurred within the City of Moreno Valley.
The Moreno Valley Fire Department is asking for your help in preventing drowning with the following water safety tips.
Staying Close, Being Alert and Watching Children in and Around the Pool
Always watch your children when they are in or near a pool or spa
Teach children basic water safety tips
Keep children away from pool drains, pipes, and other openings to avoid entrapments
Have a portable telephone close by at all time when you and your family are using a pool or spa
If a child is missing, look for him or her in the pool or spa first
Share safety instructions with family, friends and neighbors
Learning and Practicing Water Safety Skills
Lean how to swim and teach your child how to swim
Learn to perform CPR on children and adults, and update those skills regularly
Understand the basics of life-saving so that you can assist in a pool emergency
Having the Appropriate Equipment for Your Pool or Spa
Install a four-foot fence around the pool and spa and use self-closing and self-latching gates; ask your neighbors to do the same at their pools
Install and use a lockable safety cover on your spa
If your house serves a fourth side of a fence around a pool, install door alarms and always use them
For additional protection, install windows guards on windows facing pools or spas
Install pool and gate alarms to alert you when children go near the water
Ensure any pool and spa you use has compliant drain covers, and ask your pool service provider if you do not know
Maintain pool and spa covers in good working order
Consider using a surface wave or underwater alarm
For more information please visit poolsafety.gov .
Please watch the YouTube video for Pool Safety created by the City's Media Team.
---
The Moreno Valley Fire Department would like to offer important flood preparedness information

Summer thunderstorms
Southern California summer thunderstorms occur primarily over the mountains in the south and east and generally receive more storm activity than those ranges in the north and west.

Thunderstorm weather typically begins in early July and tapers off gradually through August and into September; usually there are alternating periods of high and low thunderstorm activity during the season.

Compounding the situation, these sudden and extreme thunderstorms carry the potential of flash floods.
What are Flash Floods?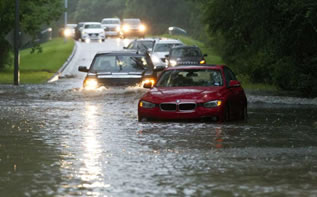 Flash floods are the most dangerous type of floods and combine destructive power of a flood with sudden and unexpected speed. These events typically occur suddenly within 2-hours of the start of high intensity rainfall. Most damage and fatalities tend to occur in densely populated areas immediately near a stream, creek, river or flood prone areas and intersections. In addition, heavy rain falling on steep terrain can weaken soil and cause mud slides, damaging homes, roads and property. Flash floods occur when slow moving or multiple thunderstorms happen over the same area. When storms move faster, flash flooding is less likely since the rain is distributed over a larger area.
When a flash flood WATCH is issued
Watch for signs of flash flooding and be ready to evacuate on a moment's notice.
When a flash flood WARNING is issued
A flash flood warning is issued when the threat of a flash flood is imminent or occurring.
Be ready to evacuate immediately as you may have only seconds to escape.
Move to higher ground and away from rivers, streams, creeks and storm drains. Do not drive around barricades. These are placed to keep you out of harm's way.
If your car stalls in rapidly rising waters, abandon it immediately and climb to higher ground.
For more information, please contact the Office of Emergency Management at 951.413.3800.
---
The Moreno Valley Fire Department would like to offer the following outdoor cooking safety tips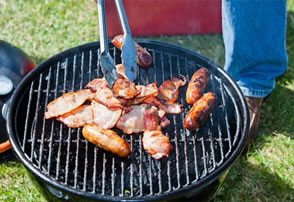 As summer approaches, activities, gatherings and outdoor cooking become a huge family favorite. In order to keep yourself and your family safe the Moreno Valley Fire Department would like to offer the following general barbecue safety tips.
Propane and charcoal barbeque grills should only be used outdoors.
Place grills away from the home, deck railings and away from eaves or overhanging branches.
Do not wear loose clothing and watching for dangling apron strings.
Keep children and your pets away from the cooking area.
Remember to clean the grill regularly by removing grease or fat buildup from the grill or trays below.
Never leave the barbeque unattended.
Keep a fire extinguisher within reach.
Safety Tips for Propane Grills:
Check the gas (propane) tank hose for potential gas leaks

Start by applying a light soap and water solution to the hose using a brush or spray bottle
Turn the propane tank on. If there is a gas leak, the propane will release bubbles around the hose.
If there are no bubbles, your grill is safe to use.
If there are bubbles, turn off the tank and check connections. Have your grill serviced by a professional before using again.

If you smell gas as you're cooking, turn off the gas tank and burners.
If the leak stops, get the grill serviced by a professional before using it again.
If the leak continues, move away from the grill and call the fire department immediately. DO NOT move the grill.
Safety Tips for Charcoal Grills:
Never add charcoal fluid or any other flammable liquids to the fire.
Keep charcoal fluid out of the reach of children and away from heat sources.
For electric charcoal grills, make sure to use an extension cord to keep the grill away from the home.
Make sure to let the coals cool completely before disposing of them in a metal container.
---

Sign up for Alert MoVal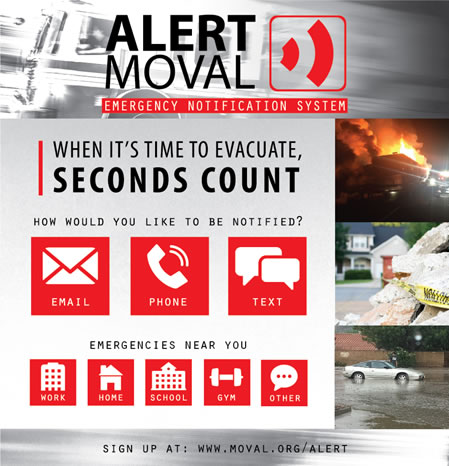 ---
Newsletters
2019
Newsletter Archive 2013-2018
Quick Links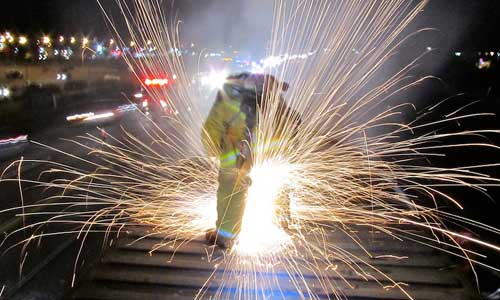 Below is a list of links which you may find useful: