Solid Waste & Recycling
The City of Moreno Valley maintains a modern City-wide collection and recycling program for both commercial and residential customers. The City also sponsors recycling events and giveaways, special collection events, and several City beautification programs.
The City of Moreno Valley provides trash, recycling and special waste handling services to residents and businesses through a contract with Waste Management. No other haulers are authorized to operate within the City.
Trash Pickup
Place your carts at the curb by 6 am on your collection day.

What Goes in the Bins?
Find out what items should go in each bin.
DIY Trash Disposal
If you prefer to dispose of your own trash, apply for a self-haul permit or call the City of Moreno Valley at 951.413.3109.
Questions About Waste Collection Service?
You can contact:
MV Recycling & Waste Collection
951.413.3109
Waste Management
800.423.9986
Trash Tips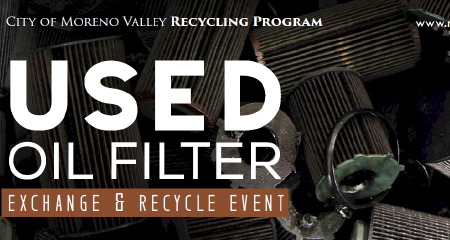 FREE Used Oil Filter Exchange and Recycle Event
When: Saturday, May 8, 2021
Time: 8 am to 5 pm
Location: O'Reilly Auto Parks #3168, 12240 Perris Blvd. Map link.

Moreno Valley residents can receive up to two new filters in exchange for two used filters during this event. Bring your ID or utility bill for residency verification.
See the event flyer...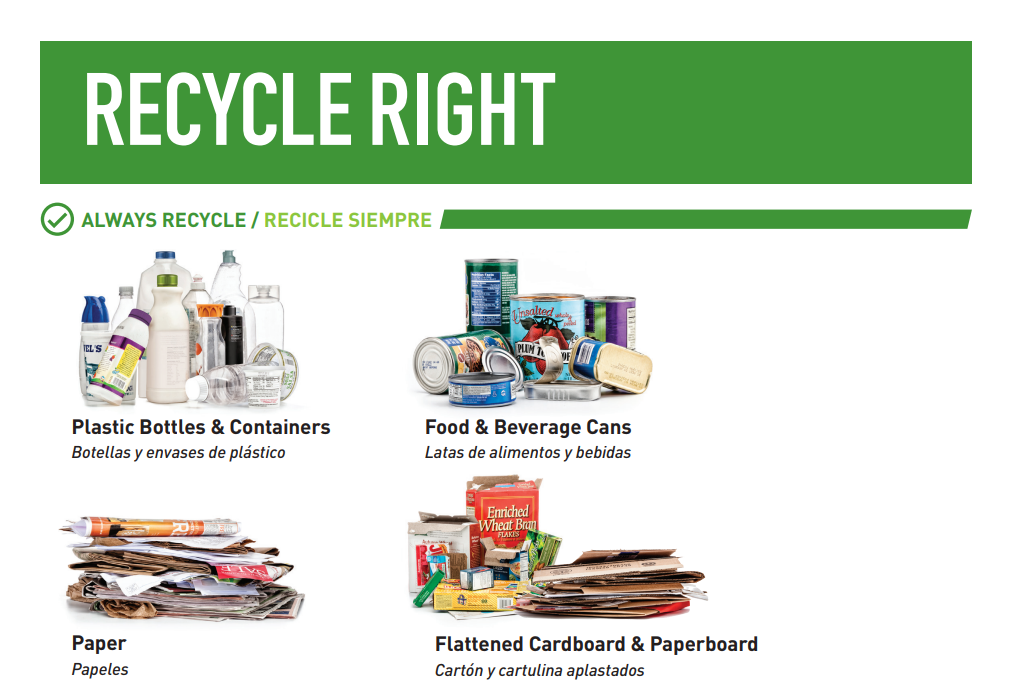 Winter 2021 News & Events
New Keep Moreno Valley Beautiful Website
The City of Moreno Valley has a new website for Keep Moreno Valley Beautiful. Check out the events - and plan to get involved in your community. See the new site
Waste Collection Calendar and Reminder System
Moreno Valley, in partnership with WRCOG has launched a waste collection calendar and reminder system. You can look up the collection schedule for your address and sign up to receive collection day reminders (email, phone call, text message). You can also print your collection schedule, or embed it into your personal iCal, Google Calendar, or Microsoft Outlook Calendar. Access the new system online here, or download it to your mobile device:
Resources
Useful Contacts
Riverside County Waste Management Department
951.486.3200
Moreno Valley Recycling and Waste Program
951.413.3109