City Library
The Library and its literacy programs play an important role in the City of Moreno Valley. All Moreno Valley residents can use the library, and obtain a library card to check out materials, use public computers, and access Wi-Fi.
Library Locations and Hours
Main Hours
Mon. - Thur., 9 a.m. - 8 p.m
Fri., 9 a.m. - 6 p.m
Sat., 9 a.m. - 5 p.m
Sun., 12 noon - 5 p.m.
Mall Branch Hours*

Monday-Friday 10 a.m. - 8 p.m.

Saturday 10 a.m. - 6 p.m.

Closed on Sunday

*Effective February 1, 2023

Iris Branch Hours
Mon. - Fri., 10 a.m. - 8 p.m
Sat., 10 a.m. - 6 p.m.
Contact Info
951.413.3880 Main Library
951.413.3670 Iris Plaza Branch
951.413.3761 MV Mall Branch
citylibrary@moval-library.org
Library Director
Maria V. Sunio, MLIS
Office: 951.413.3882
Library Online Services
Access your library account online:
Search the library's collection:
Moreno Valley Public Library Now Has Zip Books
The innovative Zip Books Program provides Moreno Valley Public Library cardholders with speedy access to books that are not available in library collections. A patron requests a print book or audiobook, and the Library purchases it from Amazon. The book is then shipped directly to the patron's home at no charge.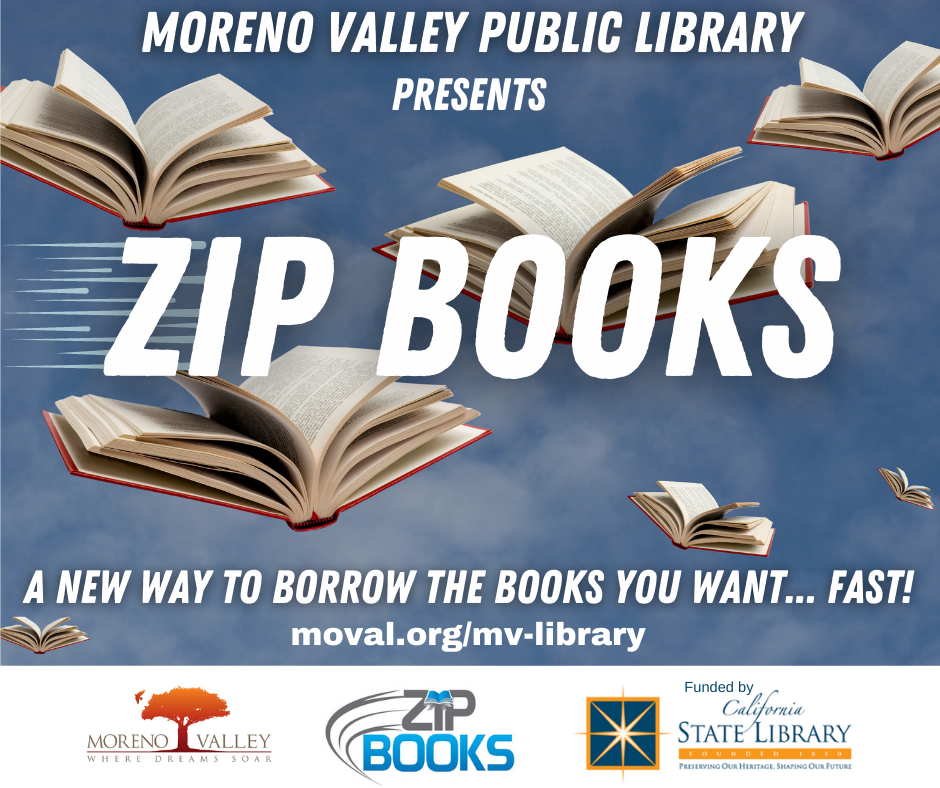 Moreno Valley Public Library Now Offers Kanopy
Moreno Valley Public Library (MVPL)'s digital offerings just got better with the addition of a new video streaming service – Kanopy. Stream over 30,000 critically acclaimed movies, documentaries, educational courses, and kids favorites through Kanopy. Library cardholders are allotted 20 Kanopy tokens a month (reset each month).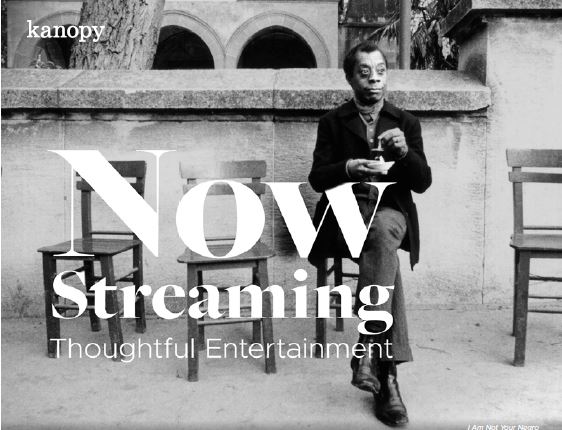 Services & Info
Veterans Connect@ the Library
Through the Library, veterans and their families can connect to benefits and services.
Events & Programs
Featured Events
Time for Adults


Mondays at 6 pm - MV Mall Branch
Adults, take time for yourself at the MV Mall to explore ideas and try new activities. Please call 951.413.3761 for more info.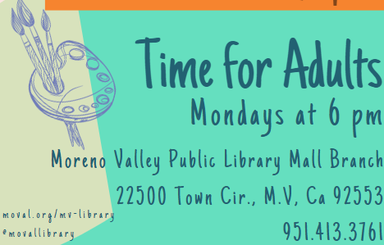 ABCs & 123s


Tuesdays 11 am & 10 am - Main Branch
Join us for fun learning activities designed for preschool-aged children (ages 3 to 5) to build a foundation for reading readiness. Space is limited.