Residential Recycling and Trash Collection
The City of Moreno Valley provides trash, recycling and special waste handling services to residents and businesses through a contract with Waste Management. No other haulers are authorized to operate within the City.  Residents may apply for a self-haul permit by clicking here or by calling the City of Moreno Valley at 951.413.3109.
Questions about your waste collection services?
Contact:
Waste Management
800.423.9986
City of Moreno Valley Recycling and Waste Program
951.413.3109
News

Organic Waste Recycling
Starting April 2016, the State's Mandatory Organic Waste Recycling law (AB 1826) will require businesses that generate 8 cubic yards of organic waste (food or green waste) to arrange for organic waste recycling services. Click here for more information.
Events
Check back for the next hazardous waste event.
Recycling and Trash Collection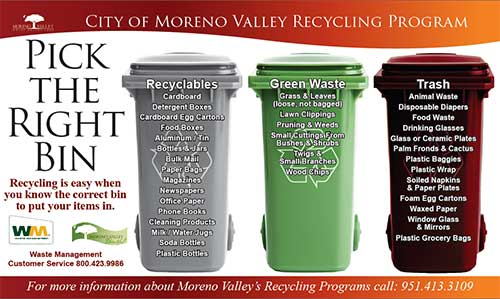 Place all waste in the appropriates container and close the lid.

Trash, recyclables and greenwaste placed outside of carts will not be collected.

Place your carts at the curb by 6:00 am on your collection day.

Roll carts into the street and place them against the curb with the handles facing your home.

Place carts at least two feet apart from other carts and objects.

Emptied carts must be removed from curbside by 6:00 pm on the same day and placed out of public view.

Questions
Bulky Item Pick-up
Do you have items that are  too large for your cart? Moreno Valley residents may request up to four bulky and/or E-waste pick-ups per month at no charge. Additional pick-ups are available for a minimal charge.
To make arrangements for pick up, please contact Waste Management at 800.423.9986.
| | |
| --- | --- |
| Accepted Items | Unacceptable Items |
| Large appliances (Refrigerators, freezers, air conditioners may be accepted with a certified CFC/freon removal certificate) | Automobile parts |
| Water heaters, water softeners | Hazardous waste, chemicals, toxic materials |
| Mattresses, sofas, chairs, tables | Glass |
| Doors, ladders, glass windows, sliding doors | Concrete or asphalt |
| Exercise equipment, bicycles, clothes | Dead animals |
| Patio furniture, barbecue equipment, lawnmowers (remove tanks) | Propane tanks |
| Lumber (must be bundled in 4ft. or shorter segments, weighing less than 50 pounds) | Construction debris |
| Carpeting and chain link fencing (must be rolled, weighing no more than 50 pounds) | Large items over 100 pounds |
| Tires for recycling (2 tires per year, per household) | Business/commercial tires |
Holiday Schedule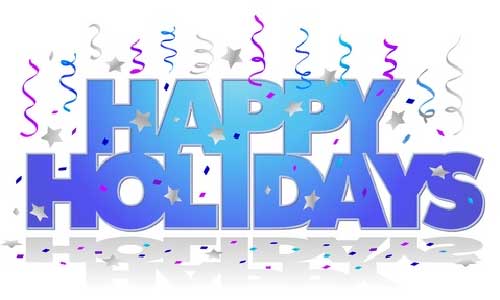 Waste collection does not occur on the following holidays:
New Year's Day
Memorial Day
4th of July
Labor Day
Thanksgiving Day
Christmas Day
When a holiday falls on a weekday, collection for trash, green waste, and recycling will be delayed by one day for the remainder of the week.
If a holiday falls on a Saturday or Sunday, there will be no delays.
Additional Services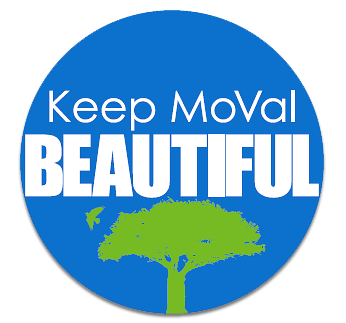 Extra Trash and Green Waste
Residents may place curbside up to 15 additional bags of trash or green waste three times per year. Advanced notice is required. Please contact Waste Management at 800.423.9986 at least 24 hours in advance of your regular collection day for this service. Collection of bags over the limit will be charged.
Tire Recycling
Bulky items now include tire recycling. Moreno Valley Residents can recycle 2 tires per year, per household. Please call Waste Management at 800.423.9986 at least 24 hours in advance to schedule this bulky item pick up.
Tires can still be taken to the Landfill for disposal. Fees are $1.00 per tire up, to 9 tires. (The legal limit to haul tires is a maximum of 9 tires per trip, unless the hauling vehicle is a Registered Tire Hauler. If hauling more than 9 tires, and tire manifest documentation is provided, the load is charged at $86.03 per ton. To find more information on becoming a Registered Tire Hauler, click here.
Christmas Tree Recycling
Waste Management will collect and recycle Christmas trees for the first two weeks following Christmas on your regular collection day. Trees longer than six feet must be cut in half. Please remove all tinsel, metal ornaments and metal stands from trees. Flocked trees will be collected but cannot be recycled.
Construction and Demolition Debris
If you need to dispose of construction or demolition debris from a remodel or other work on your home you will need to arrange for a roll-off box. Construction type debris cannot be thrown away in your regular residential trash cart. Waste Management offers roll-off boxes sized from 10 to 40 cubic yards. Recycling roll-off boxes are also available for source-separated materials such as asphalt. For more information or to order a roll-off box, contact Waste Management at 800.423.9986. Certain construction projects will be subjected to submitting a waste management plan. Click here for the CD-1 form.
Resources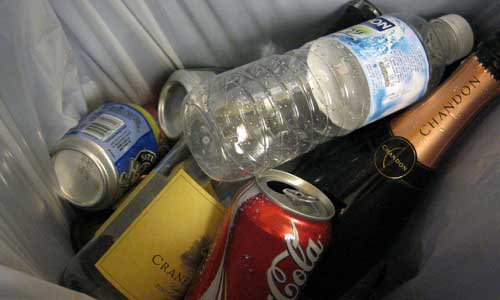 Did You Know: A typical family consumes 182 gallons of soda, 29 gallons of juice, 104 gallons of milk and 26 gallons of bottled water a year. That's a lot of containers – let's make sure they are recycled!
For more information about recycling, see these online resources:
Recycling Presentation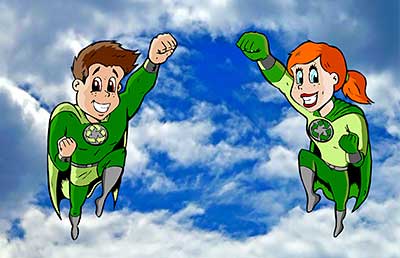 The City offers exciting interactive activities and presentations to help educate the public about recycling and reducing your carbon footprint. These presentations and outreach are free to community groups and non-profit organizations. All outreach is tailored to meet the needs of all age groups: children, teens and adults.
Contact 951.413.3109 in order to set up an appointment for a presentation or activity. You may sample a portion of the presentation by clicking the link below.
See the Sample Presentation
Residential and Commercial Trash Rates
All City residential and commercial trash services are managed by the City's franchise hauler, Waste Management Inc. Rates are effective July 1, 2017.
Questions about your waste collection services?
Contact:
Waste Management
800.423.9986
City of Moreno Valley Recycling and Waste Program
951.413.3109