Parks and Community Services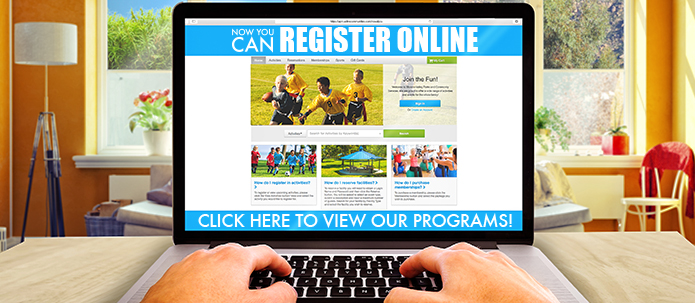 There's always something going on in Moreno Valley. The City offers residents and visitors many recreational and leisure activities, from swimming to golfing to just playing in the park, Moreno Valley has it all.
Parks and Community Services Commission/Board Vacancies
See if there are openings for the Moreno Valley Arts Commission and the Parks, Community Services and Trails Committee.
Events
The City of Moreno Valley provides a variety of exciting community events to keep residents entertained throughout the year. These events are listed here and on the community calendar.

Check back to see the next event!
Soaring
If you didn't receive a copy of our award-winning recreation guide ...or if someone else got a hold of it first, you can download your own copy of our online edition right here.
Directions
If you don't have the Acrobat Reader already installed on your system please do so first. (Do not try to download both the reader and Soaring at the same time.)
You won't see Soaring in the reader until the entire file has been downloaded. Be patient, it could take a few minutes...but it is well worth it.
Saving Soaring for Offline Viewing
To save Soaring to your computer, either right click on the link and select the "save target as..." option, or click on the save button in the Acrobat Reader.
Online Class & Activity Registration
See what you would like to do? Find a facility for your party? Register online now:


Parks & Community Services Participation Evaluation Survey
City Parks and Facilities
Moreno Valley has two golf courses including the 27-hole Moreno Valley Ranch Golf Club, ranked among the top 75 public courses in the U.S.
Moreno Valley is also home to the 8,000-acre Lake Perris State Park. This state park has boating, fishing and camping facilities. Box Springs Mountain Park provides trails for hiking and horseback riding. Riverside County's Box Springs Mountain Park, located off Pigeon Pass Road, encompasses 1,155 acres and provides trails for hiking and horseback riding.
Parks, Recreation & Open Space Comprehensive Plan
Click on the following link to see the plan.
Moreno Valley's city park system has 40 parks and/or joint-use facilities (531.66 maintained acres) and includes a 9-hole executive golf course, 23 multi-use sports fields, 11 tennis courts, nine basketball courts, 28 play apparatus, and three recreation centers.
Adopt-a-Park or Trail Program
The Adopt-a-Park or Trail Program was designed to preserve, improve and enhance Moreno Valley parks through community involvement and citizen partnerships. You can play an important role in our success by becoming a volunteer in the Adopt-a-Park or Trail program!
Cottonwood Golf Center and Banquet Room
The Cottonwood Golf Center is open seven days a week from 7:30 a.m. to 4:30 p.m., and closed on major holidays.
13671 Frederick St
Moreno Valley, CA 92553
951.413.3290
Hound Town Dog Park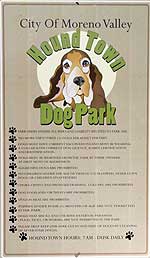 On April 16, 2008, the City opened its first dog park called Hound Town. The park is located at the Moreno Valley Equestrian Center, 11150 Redlands Boulevard, at the southeast level of the Center. The park is a collaborative effort between Canine Friends of Moreno Valley (who solicited donations of materials and labor from businesses), and local Boy Scout groups and the City's Park Maintenance staff.

The one-acre park is divided into two sections; one for large dogs and the other for smaller breeds. Additional features include: a three-in-one drinking fountain for dogs and their owners, two waste stations, a shelter with park benches for sitting, and planters with trees. There is a handicap accessible restroom and parking available on site. This site was recently upgraded with canine training equipment, benches, turf and sprinklers.

The park is open from 7:00 a.m. to dusk, seven days a week. So, pack up your canine companions and give them a chance to enjoy the new equipment.
Lasselle Sports Park
Lasselle Sports Park is 12.8 acres. Amenities include: restroom and concession, three turf football fields with natural turf, exercise track, security lighting, picnic facilities, play apparatus for ages 2-5 and 5-12, and parking for approximately 200 vehicles.
Also of Interest...
After School Programs
A Child's Place Licensed After School Program
A Child's Place Licensed After School Program provides daily homework assistance, arts and crafts, nutritious snacks, and recreation activities for children after school and during school breaks.
Day:  Monday – Friday
Time:  End of school until 6:00 p.m. and 7 a.m. until 6:00 p.m. during school breaks
Age:  Kindergarten thru 12 years
Cost:  Fees based on income
Location:  Armada (334809653), Creekside (334816836),  Rainbow Ridge (334803516), Red Maple (334815843), and Sunnymead Elementary (334818292).
Information:  Georgina Lundberg at 951.413.3286
After School Education and Safety Program (ASES)
ASES is an after school program that offers expanded learning opportunities for kids in a safe environment, supporting youth development, and incorporating fun with learning!  The City partners with THINK Together and the Moreno Valley and Val Verde School Districts to provide this program.
Students engage in fun activities that bolster their knowledge and skills in English, Math, STEM, Arts and healthy youth development. A trained Think Together employee helps students with homework and leads academic, enrichment and physical activities for groups of 20 kids. Students also receive a nutritious snack daily.
Services Provided by:  THINK Together
Day:  Monday – Friday (when school is in session)
Time:  End of school until at least 6 p.m.
Age:  Kindergarten thru 8th grade
Cost:  Free
Location:  Most Moreno Valley and Val Verde School Districts' elementary and middle schools
Information:  THINK Together at 951.571.9944 (Program evaluation results available upon request.)
Time for Tots
Help your tot get used to going to "school." Toddlers will learn colors, shapes, letters, and numbers. Activities include games, arts, crafts, and music.
Immunization record with current TB test results and birth certificate are required at time of registration.
Tots must be potty trained.
Sites:
Conference & Recreation Center
14075 Frederick St.
9:00 a.m. – 12 noon & 1:00 – 4:00 p.m
TownGate Community Center
13100 Arbor Park Lane
9:00 a.m. – 12 noon
March Field Park Community Center
15325 5th Street
9:00 a.m. – 12 noon & 1:00 – 4:00 p.m

March Annex Center
15450 4th Street
9:00 a.m. – 12 noon
Days: Monday–Thursday

Cost: Residents: $82; Non-residents: $107
.

Volunteer to be on the Park Patrol
As a Park Patrol Volunteer, the goal is to enforce park rules, enhance visitor safety, and promote park programs and visitor services offered by the Parks and Community Services Department.

Special Events
Special Events include, but are not limited to, the following:
Parades, runs, walks, running/walking/bicycle races, Christmas decoration displays, and all other events that encroach on city streets or public rights-of-way;
Community fireworks displays (privately sponsored);
Events in City parks or facilities with greater than fifty participants;
Helicopter/airplane landings; or
Any organized activity or set of activities which involves the possible or necessary provision of additional City services.