Moreno Valley Map Viewer (MV2)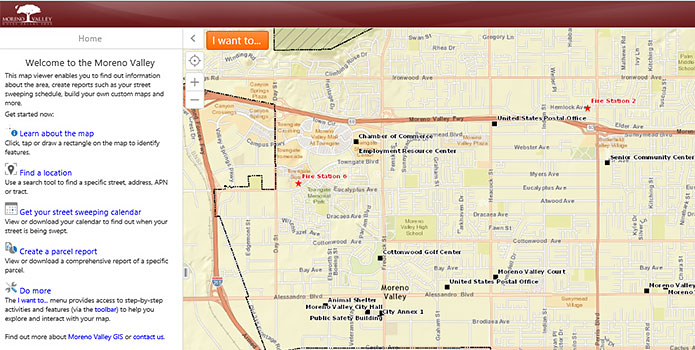 The Moreno Valley Map Viewer (MV2) provides access to the map and parcel information gathered by Moreno Valley's Geographic Information System (GIS) team. Use of these maps implies agreement with our usage guidelines (click the heading below to expand).

Moreno Valley Map Viewer Usage Guidelines
The information shown on the Moreno Valley Map Viewer is compiled from the Riverside County GIS and the City of Moreno Valley GIS. The land base and facility information on this map is for display purposes only and should not be relied upon without independent verification as to its accuracy. Riverside County and City of Moreno Valley are not responsible for any claims, losses or damages resulting from the use of this map.
PENDING LITIGATION ADVISORY
On July 15, 2021, The Sierra Club filed a Petition for Writ of Mandate challenging the City's adoption of its General Plan update – including the changes to the Zoning Ordinance in Ordinance No. 981 – for alleged violations of the California Environmental Quality Act. (Sierra Club v. The City of Moreno Valley, Riverside Superior Court Case No. CVRI2103300.) The ongoing litigation could potentially result in the invalidation of the City's General Plan and reversion to prior zoning laws. Any applications for entitlements which rely on changes in the Zoning Ordinance under Ordinance 981, adopted on August 3, 2021, are at the applicants' own risk. See the Sierra Club petition.
The functionality of Moreno Valley Map Viewer includes:
General Mapping:
Interactively view and query all available GIS layers and aerial imagery.  Easily research property information, zoning, trash pick-up and street sweeping schedules, locations of schools, parks, public facilities, or any available GIS layer. Search by APN or address and choose the Identify tool to retrieve all available information from visible GIS layers.  Select parcels or create queries to generate an exportable mailing/notification table.
Research Zoning:
Locate a property and use the Identify tool to view zoning information.  Confirm that all Zoning Layers are checked as visible (Zoning, Zoning AICUZ, Zoning PUD, Zoning ISA, and Zoning Residential Buffer). You may also want to refer to the following sources:
Moreno Valley Zoning Atlas Legend (05/12)
- Moreno Valley Municipal Code
Create Parcel Reports:.
Under the Report Tab, click on "Create Parcel Report" and enter an address or APN to get a printable document. The report can include assessor, zoning, council district, trash pick-up, and other information of interest.
Print a Street Sweeping Calendar:
On the Home Panel, select "Get your street sweeping calendar". This tool will open up a window for address input and will create a calendar to view or print.
Utilize Google Street View:
Right click anywhere on the map to instantly access Google Street View or use the Launch Google Maps (located under the Getting Around Tab) to switch from Moreno Valley Map Viewer to Google Maps. This functionality allows you to get a more in-depth view of your location and surrounding features.
Creating and Printing Maps:
Create a map in portrait or landscape layouts of various sizes from 8.5" x 11" to 11" x17". The Moreno Valley Map Viewer generates the map in the form of an Adobe Acrobat pdf file. You can then print, save, or email the pdf map file.
Also of interest...
Flood Zone Boundaries
Information on flood boundary data provided by FEMA